Family Services Specialist Disability Practitioner
The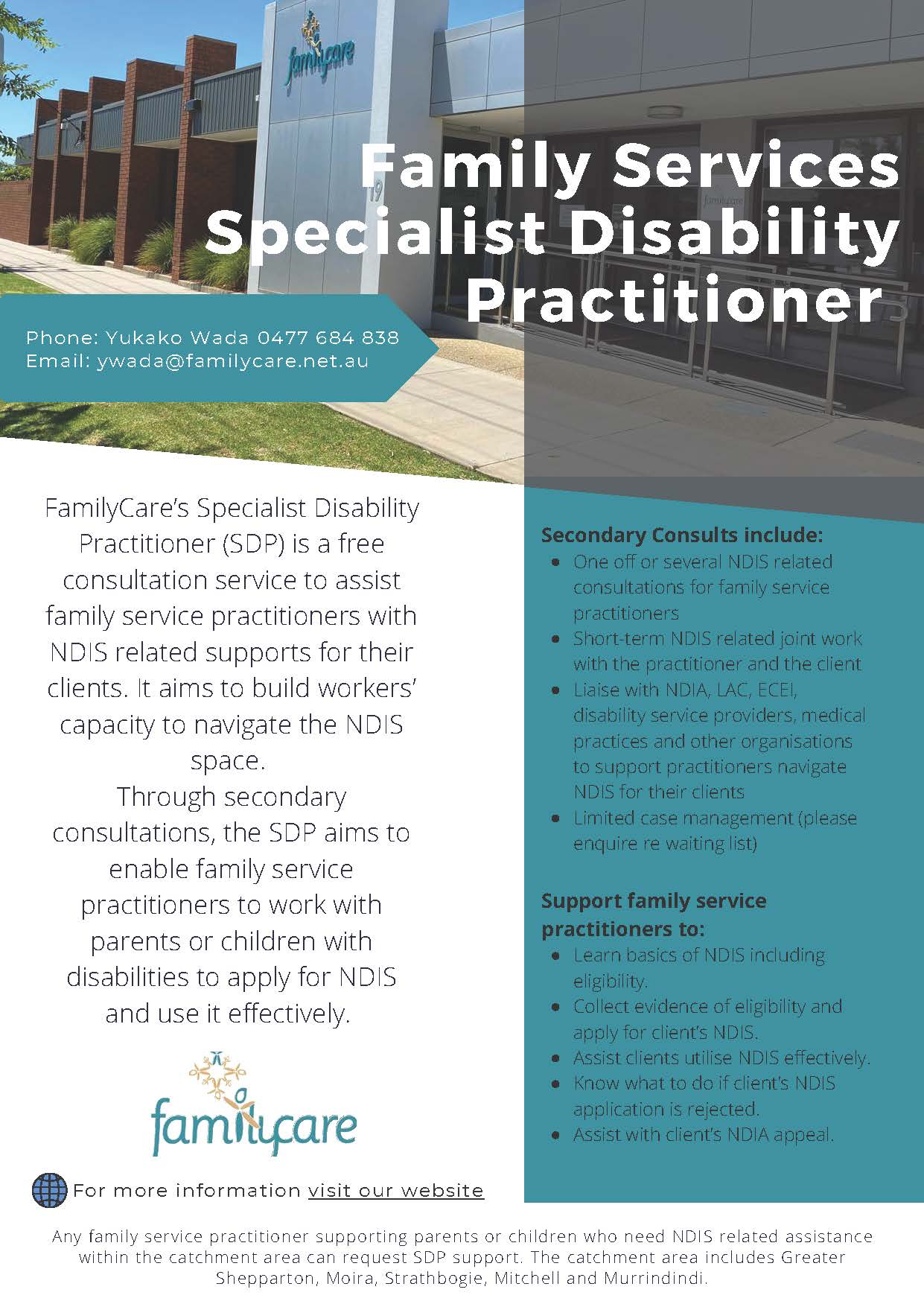 Family Services Specialist Disability Practitioner is available to support child and family service practitioners to receive secondary consultations to help their clients' access to and navigate NDIS.
Since the introduction of NDIS, the government is no longer providing disability services directly to clients. Clients must now navigate NDIS by themselves to receive disability services and many are struggling. As a result, child and family service practitioners are now expected to provide NDIS related supports to their clients. However, this may require significant time, resources and knowledge. The Specialist Disability Practitioner program is funded by DFFH as a pilot program to build the capacity of these practitioners to handle NDIS related work.
The Family Services Specialist Disability Practitioner (FSSDP) is now located within Family Services of FamilyCare Shepparton office. She assists child and family service practitioners with with their client's NDIS related issues mainly through secondary consultations.
Family Services Specialist Disability Practitioner (FSSDP) Supports
FSSDP's secondary consultation may include but not be limited to information on:
NDIS eligibility and application processes;
Medical evidence required for NDIS eligibility for your client's disability category;
How to prepare for the NDIS planning meeting;
How to start using NDIS, organise services and manage funding effectively;
How to get the services needed from NDIS by requesting reviews; and
Handling NDIS reviews or appeals.
Secondary consultations may be provided as:
One off or several NDIS related consultations for the worker and/or client;
Short-term NDIS related joint work with the client and the worker;
Liaise with NDIA, LAC, ECEI, disability service providers, medical practices and other organisations to support clients with navigating NDIS processes; and
Limited case management capacity – please enquire about the waiting list.
Eligibility
Child and family service practitioners of FamilyCare and other organisations within the DFFH catchment area of Great Shepparton, Moira, Strathbogie, Murrindindi and Mitchell shires who:
Support parent or carers with a disability who are struggling to apply for NDIS or ECEI;
Support parents or carers who are having difficulties navigating NDIS or ECEI (Early Childhood Early Intervention) for themselves or for their children with disabilities; or,
Have general questions about NDIS or ECEI for their parent, carer or child clients.
For secondary consultations or possible case management referrals, please call:
Yukako Wada at FamilyCare (9am-5pm Mon-Fri) Phone: 0477 684 838       Email: ywada@familycare.net.au.
Face to face appointments at 15 Welsford St. Shepparton VIC 3630 after lockdown