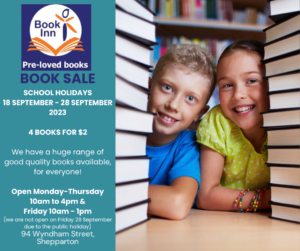 The Book Inn is open

We have a huge variety of books available, including some quality books for children and teenagers. Do your self a favour and drop in and pick up a bargain.
The Book Inn is a second hand book store located at 94 Wyndham St Shepparton and is run by FamilyCare and their dedicated volunteers. The shop has a large variety of books catering for all ages.
Opening hours are Monday to Thursday 10am – 4pm and Friday's 10am – 1pm
If you are interested in volunteering with FamilyCare at The Book Inn, please either contact the Volunteer Coordinator on 03 5823 7000, email volunteer@familycare.net.au or call in to our office at 19 Welsford Street, Shepparton.