0
Weeks
0
Days
0
Hours
0
Minutes
0
Seconds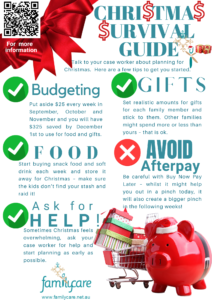 Christmas is the biggest spending time of the year and there's often pressure to spend more than we can afford. Start preparing now to take a little bit of the pressure off.
BUDGETING
Start now by putting aside a little bit of money each week. Make a savings account that is set aside just for Christmas.
If you start putting away $25 per week in September, October and November, you will have $325 saved by December 1st. Your Christmas gifts are paid for! What a relief!
Download a Budget template here
GIFTS
Set a realistic dollar amount for gifts for each child and family member. There will always be other families who spend more or less than yours – and that is ok
Buy practical gifts – for example, if your children need clothes, bedding or school bags, then they might love some of these as Christmas presents – especially if they are in the theme of their favourite superhero.
Buy gifts that will keep the kids active and entertained through the summer holidays – such as board games, craft activities, books, and sports equipment. This way you don't need to spend money on Christmas presents PLUS more money on school holiday activities.
FOOD
Start purchasing a few non-perishable food items each week and storing them away for Christmas – this way you are spreading the Christmas food costs out over a number of months. You can do this with soft drinks too. Make sure the kids don't find your stash and raid it!
AVOID AFTERPAY
Be careful with Buy Now Pay Later – whilst it might help you out in a pinch today, it will also create a bigger pinch in the following weeks!
AVOID IT IF YOU CAN!
BACK TO SCHOOL
Don't forget that Christmas and "Back to school" is a financial double whammy! The better you prepare for Christmas, the easier it is to survive the new school year.
Ask for help!
Sometimes the numbers just don't add up and Christmas feels overwhelming. If you want to make a plan but don't know where to start or just can't see how to make it work, ask your case worker for help as early as possible.