FamilyCare's Gift trees provide the opportunity to create a direct and personal impact, bringing joy and spreading the true spirit of Christmas. It is a wonderful way to involve others and make a collective difference.
Below are some questions and answers that may help you make the most of the gift trees and thank you very much for your support of this great initiative.
How will the Gift trees work?
Please take a gift tag from the tree. The tags represent specific ages and genders of children who we would like to give a gift to this year. Participants can purchase corresponding gifts and place the unwrapped items under the tree. FamilyCare will then arrange to distribute the gifts to those who need them most.
Where can I find a FamilyCare Gift Tree?
ANZ Shepparton, Belcibo and Co, Beveridge Centre, Connect GV, Goulburn Flood Recovery Services, Goulburn Valley Water, Grahamvale PS, Greater Shepparton City Council, GV Community Heath, Harvest Home, Kilmore Village, McPherson Media Group – Shepp News, Notre Dame College, Oddfellows Café, Partners in Training, Shepparton Marketplace, Stellar, The Brewers Table, The Milk Bar, Toolamba PS, Welsford St Café.
What can I put under the tree?
Please use the gift tags as a guide for your purchase. We are also able to take gift cards, coffee or cafe vouchers or groceries only vouchers. Please no alcohol or cigarettes as we are unable to give these to clients.
Who will receive a gift?
All gifts will be provided to families identified by FamilyCare who are in need over the Christmas period. This is the same as previous years.
What is the closing date for donations?
Monday 18 December. This will ensure we have enough time to sort the gifts and distribute these to families in need.
How should I promote it to my workplace and friends?
Please like, share and tag our social media posts.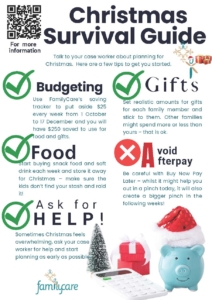 Christmas is the biggest spending time of the year and there's often pressure to spend more than we can afford. Start preparing now to take a little bit of the pressure off.
BUDGETING
Start now by putting aside a little bit of money each week. Make a savings account that is set aside just for Christmas.
If you start putting away $25 per week from 1 October you will have $250 saved by 17 December. Your Christmas gifts are paid for! What a relief!
GIFTS
Set a realistic dollar amount for gifts for each child and family member. There will always be other families who spend more or less than yours – and that is ok
Buy practical gifts – for example, if your children need clothes, bedding or school bags, then they might love some of these as Christmas presents – especially if they are in the theme of their favourite superhero.
Buy gifts that will keep the kids active and entertained through the summer holidays – such as board games, craft activities, books, and sports equipment. This way you don't need to spend money on Christmas presents PLUS more money on school holiday activities.
FOOD
Start purchasing a few non-perishable food items each week and storing them away for Christmas – this way you are spreading the Christmas food costs out over a number of months. You can do this with soft drinks too. Make sure the kids don't find your stash and raid it!
AVOID AFTERPAY
Be careful with Buy Now Pay Later – whilst it might help you out in a pinch today, it will also create a bigger pinch in the following weeks!
AVOID IT IF YOU CAN!
BACK TO SCHOOL
Don't forget that Christmas and "Back to school" is a financial double whammy! The better you prepare for Christmas, the easier it is to survive the new school year.
Ask for help!
Sometimes the numbers just don't add up and Christmas feels overwhelming. If you want to make a plan but don't know where to start or just can't see how to make it work, ask your case worker for help as early as possible.
https://familycare.net.au/wp-content/uploads/2018/07/FamilyCare-logo-horizontal-340wide.png
0
0
Family Care
https://familycare.net.au/wp-content/uploads/2018/07/FamilyCare-logo-horizontal-340wide.png
Family Care
2023-09-22 16:19:14
2023-11-27 16:11:01
Christmas 2023